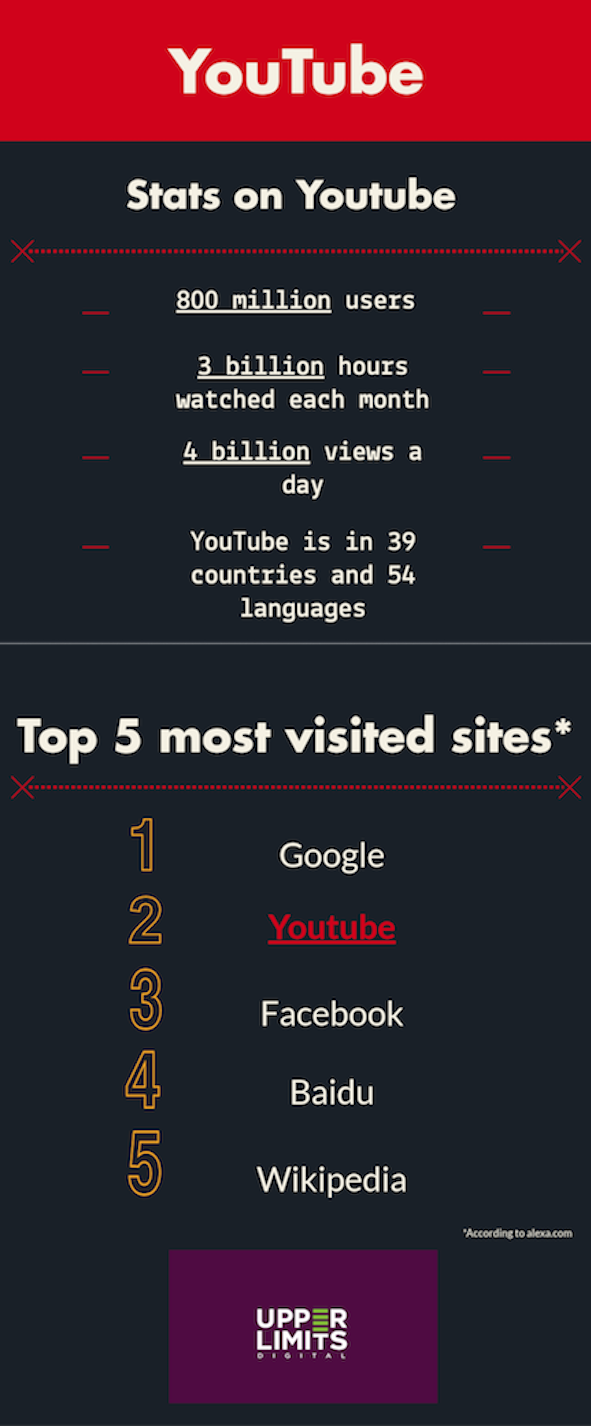 Youtube is an interesting cookie, a service that eludes an easy definition. We all know Youtube is a video hosting site, but nowadays you will see it referred to as a social media platform or even as a search engine. All three explanations make sense.
 Define it as you will, the importance of Youtube for video marketing can't be understated. 
Alexa ranks Youtube as the second largest site on the web, trailing only Google (which truly shows the might of our internet overlord since Google owns Youtube). Marketing professionals are starting to take more action on this as a recent report by Social Media Examiner stated that "the use of video is a key part of most marketers' plans in 2017, with 75% planning on increasing their use of videos."
Will starting an account be hard?
Ok, it's a big deal, but how should you use it? Well, the next step is to brainstorm the kind of video content you can create:
What would you film?

How often could you produce it?

How much do you want to spend on it?
The good news here is that it does NOT have to be expensive. Tangerine, a movie that received much acclaim at Sundance in 2015, was shot entirely on an iPhone 5S. So, chances are you have a camera in your pocket right now that is more advanced. Pair that with an app like Filmic or one of these options, plus a Steadicam, and you're on your way to making something incredible.
Brainstorming Phase
Now, what kind of content are you going to create? A video is a commitment. It takes time to film and produce it. Keep in mind that your videos must do one of two things: entertain or inform. You are most likely already using another form of social media to give business updates, so you want to use Youtube as the place to go into more depth than you would on a Facebook or Instagram post. Think about an aspect of your business that you could go into detail about and then brainstorm how a video could portray that.
Seth Godin writes, "New marketing treats every interaction, product, service and side effect as a form of media." This means companies and brands are starting to be more honest and open about how they operate and how they produce. This is a good thing.
With that in mind, one idea is using video to give your audience a personal look into your product. Show them a part of the product creation process. Give them an office tour. Or do something like what this start-up is doing, where they create video blogs showing stages of their journey. This both helps people connect with their brand and provides a good exercise in reflection and documentation.
The options are endless. If I've sparked any inspiration, I highly recommend starting to use video in your marketing efforts. The commitment can really pay off. We will do some follow up posts with suggestions on next steps, including tips for creating and editing, places to share video, and how to grow a following once you begin sharing. Stay tuned! If you would like to talk to us about video marketing please contact us here.